Best Rap Performance :
Jay-Z and Kanye West, 'Niggas in Paris'.
I wasn't expecting this song to win anyway, I thought 'Mercy' should have won. Old school listeners would probably disagree with me, sayin' Nas should have won it for 'Daughters'.
Best Rap/Sung Collaboration :
Jay-Z, Kanye West, Frank Ocean & The Dream, 'No Church In The Wild'.
This was expected though. I mean, just look at the other nominees and compare them to NCITW. They on another level compared to the rest, and about time Frank gets recognition for being one of the best to look for to feature in any songs. Shoutout to The Dream too, even you had beef with The Weeknd I won't turn a blind eye on your contributions to this hit.
But really, why the outfit? You are not appearing on BET for goodness sake.
Best Urban Contemporary Album : Frank Ocean, 'Channel Orange'.
So proud of you Frank, really. You deserved it. You got a standing ovation, but sorry for Chris Brown acting all immature by not standing up for you. Even with the past Twitter beef (which was stupid) and the recent one over a parking space (really?), if you're telling the press that you're mature since the Rihanna incident, at least acknowledge your rival for winning something. Now you know why majority in the industry hates you? The media, press, critics, blogs, social media. You don't even deserve to be nominated, and that's coming from a fan of your music.
Best Rap Album : Drake, 'Take Care'.
Wow, I can imagine Big Face having one of his earliest facepalm moments of 2013. Who knew Drake would won a Grammy award eh? Well I'm glad cuz if Officer Ricky or 2 Chainz be winning it, I'm gonna stop listening to mainstream rap for until the Grammy panel members get their shit right. Congrats Kitten Whisperer, the kitten kingdom awaits on your glorious return and a parade to celebrate.
Best Rap Song : Jay-Z & Kanye West, 'Niggas in Paris'.
Like I said earlier on, I bump to this song. This song went hard and was the anthem for ballin' for the year 2012. But giving it the title for Best Rap Song of the year, and a Grammy to compliment it, its like giving Nas the middle finger.
Tell me how is Nas' 'Daughters' not better than 'Niggas in Paris'? You're saying a song about African Americans spending money in Europe and boasting about their wealth is better than a story about a rapper struggling to be a better father to his daughter, while facing media crucification about her mistakes and what not? What the fuck happened?!
I have no hate for Jay-Z and Kanye West, their hard work and determination got them to where they are today. But to give them best song for a song like 'Niggas in Paris' over 'Daughters' is just downright awful and embarrassing.
As for the other categories, here's what I didn't like.
1) Fun. winning best new artist. They have been around for years, and they even said that during their acceptance speech. Frank Ocean should have won it by a mile So here's a picture of them laughing at Frank Ocean.
2) I have no arguments over Gotye and Kimbra winning Best Pop Duo performance, but for them winning Record of the Year was just funny. I would have picked Kelly Clarkson's 'Stronger' or Frank Ocean's 'Thinking About You'. Plus, I hated that song. Hated it.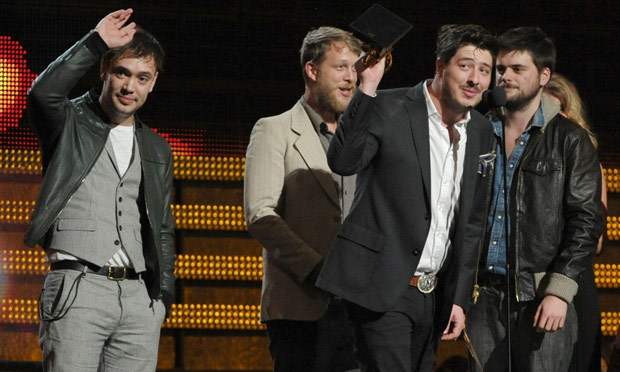 3) Album of the Year : Mumford and Sons, 'Babel'. I still think Frank Ocean should have won, without a doubt. I just felt the poor crooner was snubbed throughout the whole award ceremony.
On an unrelated note :
I don't wanna fucking hear or see another Taylor Swift performance. I am so sick of that awful 'We Are Never Getting Back Together Song'. I can't stand that track, and the fact that she made an awful British accent to diss Harry Styles from One Direction just made it worse.
Someone needs to tell Taylor Swift here that she can't build a career on albums about the same, boring heartbreaks and the same, post-breakup songs. Really, if you're singing about standing up against bullies in life but dissing people that YOU left, you need to take a seat at the corner of shame and think carefully about your life.
You're a joke, the end. And that's my reactions towards the important categories to me :D