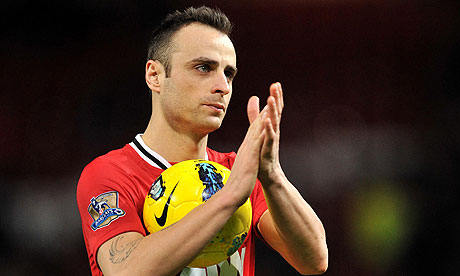 Last season, I have been patiently waiting to see the Rooney-Berbatov partnership continue to bring United to the league title. But Sir Alex chose Danny Welbeck ahead of Berbatov. I've lost count on how many chances Welbeck fuck up or how many selfish plays he has gotten himself while attacking.
When Berbatov signed for United when Tottenham thought he was heading for City, I knew something special was gonna happen in Manchester United. You see, Dimitar Berbatov is not the fastest striker in the league, but his one-touch play and vision while setting up goals is just amazing.
His goals was wonderful. The bicycle kick against Liverpool was my favourite goal by him. His many assists leading to Rooney and Ronaldo's goals, and being the top scorer for the 2010/2011 season. He deserved it.
But when Sir Alex still continues to choose Welbeck over Berbatov, I knew he was gonna be on the bench for a very long time. Maybe too long, that last season I rarely see him play for United. I kept on denying that he was gonna leave after being left out of the squad for the Champions League final match against Barcelona.
I was damn sad that Berbatov left United for Fulham in the final days of the transfer window. I understand that such player like him deserved to play first team football rather than warming up the bench. I was totally against Sir Alex at signing another striker. Everytime when being asked about his attacking options, he mentions Rooney, Welbeck, Chicharito, Van Persie. But Berbatov's name was not included.
Part of me lost respect of Sir Alex for selling such a good player. I would rather see Welbeck off and have the Rooney-Van Persie, Berbatov and Chicharito or any available striker to pair up with Berbatov.
I personally believed that Berbatov had an unfair final year being a United player, I hope he will be playing good first team football at Fulham, and if he happens to score against Manchester United, I would be glad to applaud him for doing so. This is to show Sir Alex what he as a manager deserved for giving the worst treatment to a genius player.
Thank you so much Berbatov, when you come back to Old Trafford and play against United, most of us United fans will still remember what you have contributed to the club. We would not have lifted the title a year ago if it wasn't for your goals.